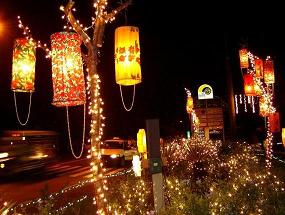 Wondering where to go for Christmas? Tight budget or grand reunion and celebration, Metro Manila has a lot of places to offer for the family. Therefore,
Metro Manila Directions
compiled the top 10 places to visit (or maybe, most visited) during the Christmas season. The first five places are the old-timers places - not technically for the old ones but basically, what most of us these days call, traditional places. The last five have just been built over the past decade but has already gained huge following and a lot of visitors during the Holidays.
The key is to tell you in short blurbs what these places can offer. So here we go:

1.
Luneta/Rizal Park
- All time favorite. You will never go wrong with Luneta. A lot of families flock this area during Christmas Eve and the Day itself to have picnics, get-togethers, or just simply picture-taking. Very cheap since the park is open to everyone.
Read more about and get directions to Luneta
2.
Divisoria.
No need to explain why people from different parts of the country, okay - that's exaggerated, of Luzon, visit this shopping district of Manila every Christmas season. Quality but affordable gifts (it's the thought that counts), nice dresses, and healthy markets can be found in the streets of Divisoria.
Read more about and get directions to
Divisoria
3.
Greenhills.
If you are looking for the gifts to give your loved ones, why not start with Greenhills? Super crowded during the Holidays but one will not regret visiting this San Juan shopping center because this is where one can also watch the "Christmas on Display" (C.O.D.) - a musical show of lifesize Christmas figures.
Read more about and get directions to
Greenhills
4.
Cubao
. The giant Christmas Tree of Araneta center. The Christmas lights along the streets of Cubao. Disney on Ice. Acrobats. Lots of shopping stores. Cubao Expo shops.
Read more about and get directions to
Cubao
5.
Star City.
Who hasn't been to Star City yet? Shame. On. You. Just kidding. But you have to experience visiting this theme park before you start having kids who you have to say 'yes' to when it's their turn to ask you to go with them to Star City.
6.
Manila Ocean Park
. If you have relatives visiting from the province, you should bring them to Manila Ocean Park. Large aquariums featuring rarely found sea creatures. The water and light show and the tempting Asian and seafood fusion restaurants.
Read more about and get directions to
Manila Ocean Park
7.
SM Mall of Asia.
The huge lighted globe. The fireworks via Manila Bay. San Miguel by the Bay. The huge shopping stores. SM Cinemas for MMFF.
Read more about and get directions to
SM Mall of Asia
8.
Eastwood.
Wanna be hip and trendy? Visit Eastwood. You will have City Walk 1 and 2. The central stage is where bazaars and mini-concerts can be found. Eastwood Mall is for the formal family dinners or old college friends' reunion.
Read more about and get directions to
Eastwood
9.
Tiendesitas.
Bargain. Food. Lots of bargain. Lots of food. Mini-concerts also and pampering services for your pets.
Read more about and get directions to
Tiendesitas
10.
Bonifacio High Street and Serendra
. There is nothing more fancy than to walk your dog on Christmas Eve. Just kidding. Bring your family out to a good dinner at Serendra. Or walk around High Street for some quiet time.
Read more about and get directions to
Bonifacio High Street and Serendra
Of course, don't forget to support the annual Metro Manila Film Festival!:)
*
photo courtesy of Filipino Biz.ph (Philippine Tourism)

Get the latest updates via our Facebook page!
Follow @mmdirections